Pro-Circuit Tournament
Save over $40 when you buy the Tournament Pass!
April 29th-May 5th at the Boulevard Tennis Club.
Matches Daily start at Noon.
Finals Matches on Saturday and Sunday will start not before 1 PM
00

Days

:

00

Hours

:

00

Minutes

:

00

Seconds
Click Here to Read The Latest Pro-Circuit Tournament News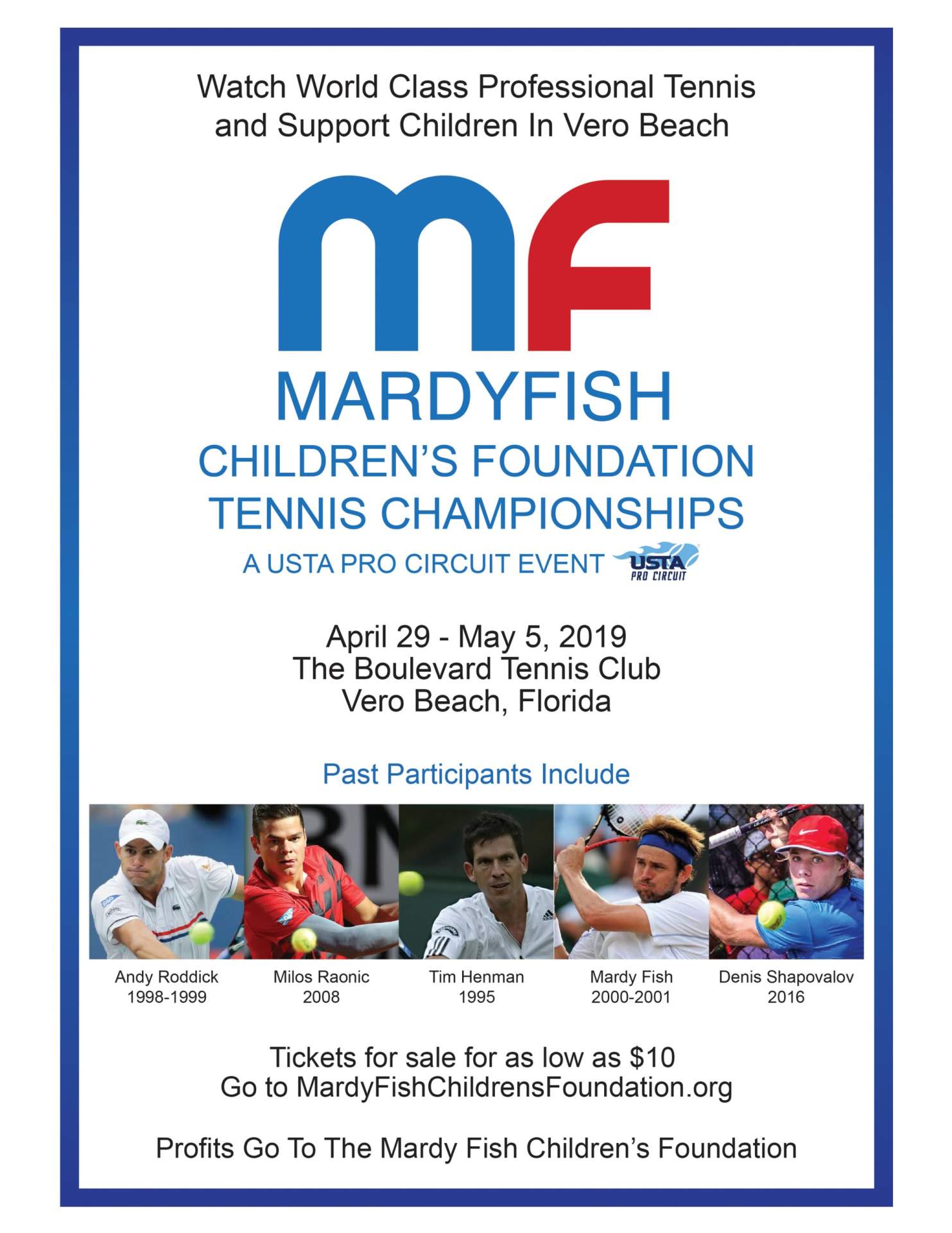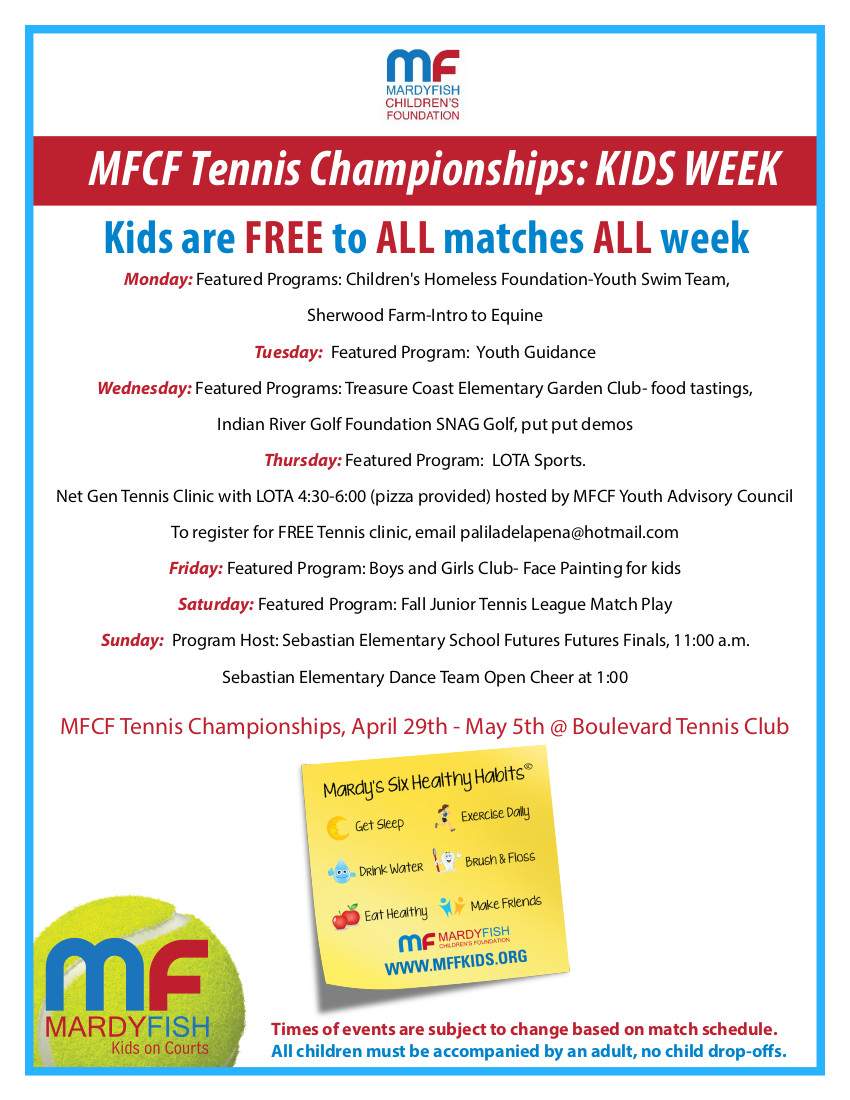 The Mardy Fish Children's Foundation will be elevated to a $25,000 tournament in 2019, up from a $15,000 event in 2018, ensuring higher-quality ranked players competing in the event than in years past. A 28-player qualifying tournament will start Monday, April 29 with main-draw play starting Tuesday, April 30 concluding with the singles final on Sunday, May 5. A special pre-qualifying tournament open to all entrants will be played at The Boulevard starting Wednesday, April 24 with the winner earning a place in the 28-player qualifying tournament. The tournament is part of the newly restructured and rebranded ITF World Tennis Tour.
The Mardy Fish Children's Foundation Tennis Championships has been played in Vero Beach since 1995 and regarded as one of the best entry-level professional tennis tournaments in the world. Some of the past competitors have gone on to succeed at the highest levels of professional tennis, winning major singles and doubles titles, Olympic medals and Davis Cup championships and earning No. 1 world rankings. Andy Roddick, the 2003 U.S. Open champion who attained the world No. 1 ranking and helped the United States win the Davis Cup in 2007, competed in Vero Beach in 1999. Thomas Johansson of Sweden, who reached the second round of the Vero Beach Futures in 1995, won the Australian Open seven years later in 2002. Nicolas Massu, the 1998 singles runner-up in Vero Beach, won the singles and doubles gold medals at the 2004 Olympic Games in Athens, Greece, beating Fish in the gold medal singles match. Kyle Edmund, the 2013 champion in Vero Beach, helped Great Britain to the Davis Cup title in 2015. Other notable former competitors in Vero Beach include former world No. 2 Magnus Norman, former world No. 4 Tim Henman, 2016 Wimbledon finalist Milos Raonic and most recently world No. 50 player and teen sensation Denis Shapovalov, who played in Vero Beach in 2016. Former Vero Beach competitors have combined to win 19 titles in singles, doubles and mixed doubles at Grand Slam tournaments. Seven former Vero Beach players have gone on to play Davis Cup for the United States – Roddick, Fish, Taylor Dent, Jared Palmer, Donald Young, Ryan Harrison and Frances Tiafoe.
Tickets for the event are available now. Click here to purchase.Admission for children 18 and under is free. Sponsorships are available by contacting co-tournament directors Tom Fish (Tfish@aol.com) and Randy Walker at (Rwalker@NewChapterMedia.com). Fans can follow news and developments on the tournament on Facebook and on Twitter at @VeroFutures.
The Mardy Fish Children's Foundation Tennis Championships have an annual economic impact of approximately $500,000 per year on the Vero Beach local economy. Approximately 3,000 fans annually attend the event, which is seen as one of the best-attended events entry-level events in the world.